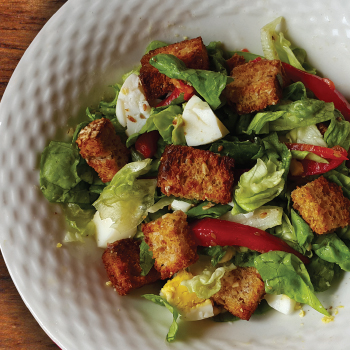 Sprouted Bread Ceaser Salad
Take a slice of 3-Seeds Sprouted Bread,‬ cut it into cubes and dip in olive oil. Season with chopped garlic, oregano, rosemary & pinch of salt. Bake in oven until golden brown and crunchy. Mix with butter-head lettuce, sliced red capsicum & hard boiled egg. Drizzle with some sesame soy sauce and toss it. Enjoy!
Spread a generous amount of Nutella on a slice of 3-Seeds Sprouted Bread. Top with sliced bananas and bake for 5 minutes. Serve with cubed kiwi, a thick slice of peeled orange and more sliced bananas. For breakfast or a snack. So Yummy!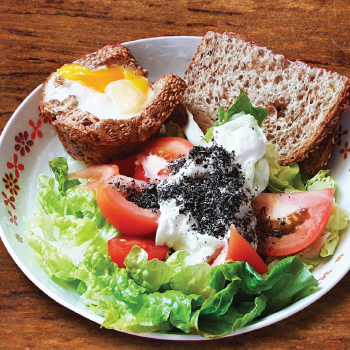 Take a slice of 3-Seeds Sprouted Bread and with a rolling pin, roll it flat. Use a pair of scissors or a knife to make an incision on the bread at 2 opposite ends. Place the bread pieces into a muffin mould. Place some ham/cheese pieces then break an egg into it. Bake at 180 Celsius for 8-10 minutes or until the egg is cooked. Sprinkle with cracked black pepper and serve with cut vegetables and dress with plain yogurt and black sesame powder. Toss and serve.
Place shredded or chopped onions and cracked black pepper with tuna and mix it well. Add mayonnaise (optional, but it will taste better). Spread the tuna-mix on either a 7-Grains or 3-Seeds Sprouted Bread (toasted if you prefer) and enjoy.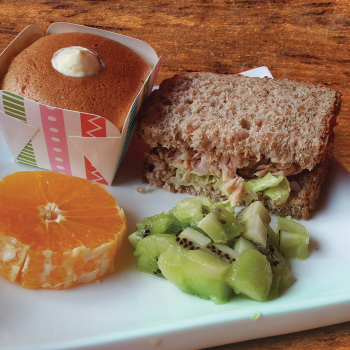 Spread a generous layer of Hazelnut chocolate (Nutella) on a slice of either 7-Grains or 3-Seeds Sprouted Bread. (toasted if you prefer).Place a few slices of banana on top and bake at 180 Celsius for 8 minutes and serve hot. Kids will love it. Delicious!
Make a face on a slice of sprouted bread. Use thinly sliced tomatoes for the hands, a quarter slice of hard-boiled egg for the mouth, cherry tomatoes for the eyes (sliced Kiwi fruit will work too!) and nose, cheerios oat cereal for the cheeks and serve with your kid's favourite vegetable.
Fry an egg inside a piece of sliced red capsicum and place on a piece of toasted Rainbows Sprouted Bread. Add grilled purple cabbage. Serve with cherry tomatoes, kiwi & blueberries for a great nutritious meal. It's a real good combo!
In a bowl, place 4-5 tablespoons of instant oats, crack an egg into it and pour some milk. Soak for 5 minutes. Take a slice of 7-Grains or 3-Seeds Sprouted Bread dip it into milk and then place it into the bowl and lightly press it down over the contents. Bake in oven at 200 Celsius for 10-15 minutes. If you prefer a little sweetness, drizzle with some honey before serving. Lovely!